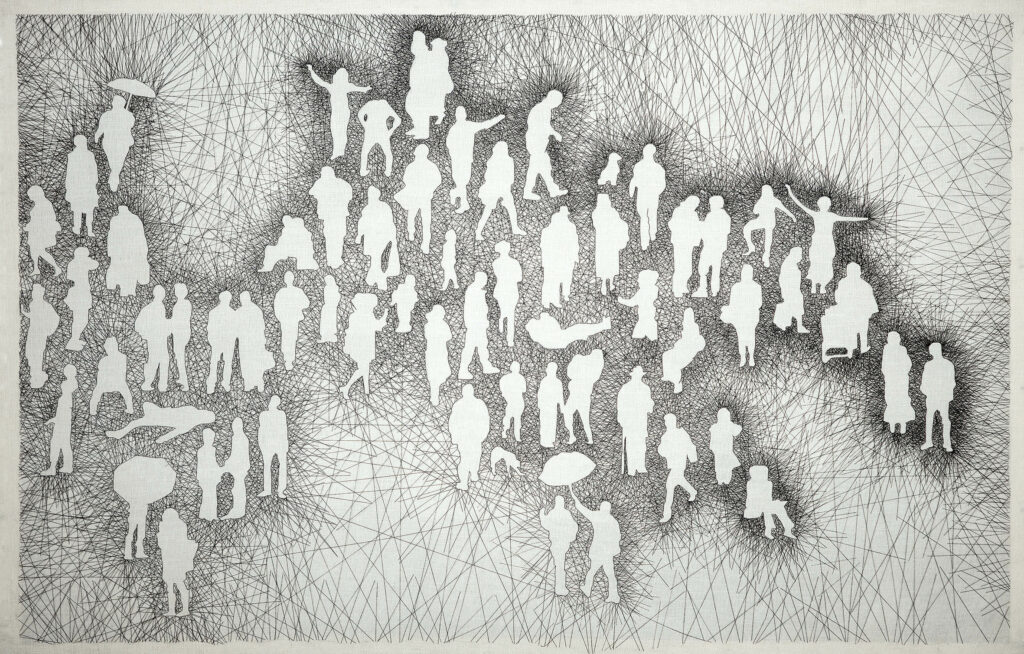 FOULE SOLITAIRE
Dessin brodé sur coton, 135/75cm, 2011, Lorient.
---
Originally, an accumulation of street photographs taken in Dublin forms this "Solitaire Crowd" where each character is decontextualized and then assembled into a composition that erases any spatial-temporal clue; until this imaginary cartography is drawn.
The composition is inspired by the traditional Jouy canvas on which monochrome drawings were printed. But, unlike these paintings reproducible to infinity, the pattern embroidered with black thread is unique, fragile. A long work that plays with time and patience, where the thread weaves links between the characters left "in reserve". A drawing filled with absences and motionless ghosts, a drawing that prompts the eye to drift between the lines.
---
À l'origine, une accumulation de photographies de rue prises à Dublin forme cette "Foule Solitaire" où chaque personnage est décontextualisé puis assemblé dans une composition qui gomme tout indice spatio-temporel ; jusqu'à ce que se dessine cette cartographie imaginaire.
La composition s'inspire de la traditionnelle toile de Jouy sur laquelle était imprimé des dessins monochromes. Mais, à l'inverse de ces toiles reproductibles à l'infini, le dessin brodé au fil noir est unique, fragile. Un long travail qui se joue du temps et de la patience, où le fil tisse des liens entre les personnages laissés "en réserve». Un dessin rempli d'absences et de fantômes immobiles, un dessin qui incite l'œil à dériver entre les lignes.